Katie Weatherford pursues children's media production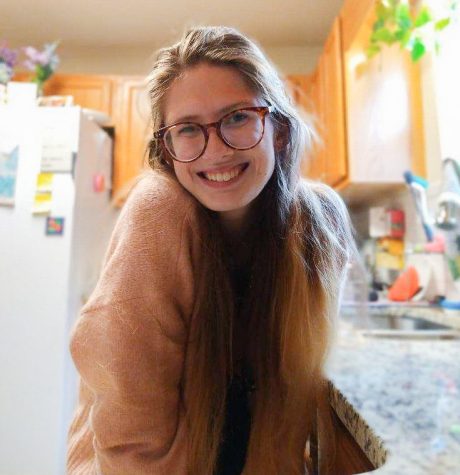 Katie Weatherford, previously a music major, found the best way to pursue her passion through film production. She has stepped into leadership positions and participated in many projects since switching her major to film production in fall 2021.
Her path began when she saw an email from the School of Humanities offering free student film passes, including access to film screenings and workshops at the Rome International Film Festival (RIFF).
Weatherford began questioning if she was on the right path with her music major around the time she took the opportunity to attend RIFF. She chose the music pathway as she felt film studies would not have offered the desired opportunities for her goals of working in children's television.
"Ideally, I want to create something for this generation of children, like Mr. Rogers, that offers strategies to help when kids feel overwhelmed, have big emotions or don't know how to deal with something," Weatherford said.
Weatherford observed that many children struggled with anxiety during her time as a preschool teacher. She recognized that this generation's children would benefit from knowing how to process their emotions.
She felt inspired by the role models of her generation, Mr. Rogers and Jim Henson. She realized that television would be an excellent way to teach children about social and emotional health and well-being.
"I thought, since kids already watch a lot of television, we could use that for good," she said.
She discussed her long-term goals with an adviser and learned that there was not just an option to major in film studies, but specifically in film production. Her adviser suggested and agreed with Weatherford that she change her major.
Film production majors are afforded the opportunity to take courses at the Georgia Film Academy (GFA), which is affiliated with the University System of Georgia.
"The campus that I go to is in Norcross," Weatherford said. "I love meeting people there. You're not so confined to just one group of students; you have more interactions and more contacts."
She said she enjoyed the experience offered at GFA, as she has been able to work on set construction through craft courses, such as one inspired by Bilbo Baggins' fireplace from "The Hobbit."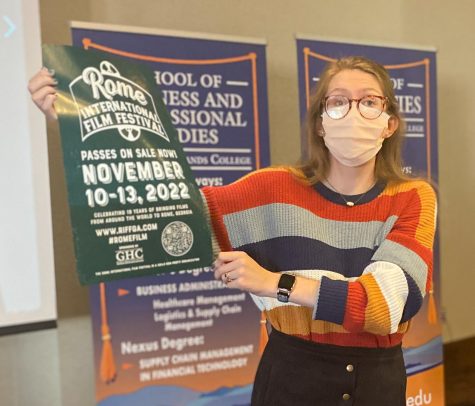 Weatherford has also become the president of the Highlands Film Society, where she enjoys working with the officers and planning events.
She has been directly involved with a few films produced by the Highlands Film Society. She was the associate producer of "The Suspects," which was featured in RIFF 2022 and was sold out on opening night.
She was also the script supervisor and assistant director for "The Backpack in the Alley," a short film produced by Floyd campus film major, Joseph McDaniel. He said she was "really good" and "Definitely helped things go smoothly."
Weatherford has also used her film production skills for other organizations like assisting with projects for Phi Theta Kappa as the vice president of membership.
Biochemistry major, April Cole, said that she has worked with Weatherford as PTK officers for a year and that she has been a vital part of their biggest projects.
"I met Katie right before her ventures began to take root, and watching her growth in film has been a great joy," Cole said.
One of Weatherford's favorite quotes from Mr. Rogers is: "There are three ways to ultimate success: The first way is to be kind. The second way is to be kind. The third way is to be kind."
Her future endeavors are intended to shape this generation's children and bring hope for change in a world that often lacks kindness.